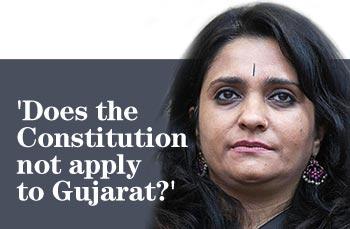 Supreme Court today expressed its outrage over recent articles written by Self Styled Social activist Teesta Setalvad.
Chief Justice K G Balakrishnan called the attack "shameful" and "not in good taste."
"Who is this Teesta Setalvad. Is she a spokesperson of these persons or petitioners. There is one article that appeared (written by her). If she is representing these persons (Godhra accused) we do not want to hear them,"  " it asked before starting the proceedings on the bail petitions filed by the Godhra accused.
"We see so many things in media. Sometimes it is educative for us and sometimes we simply ignore them but what is this (Setalvad's article) that the court is not posting their matters or doing something unfair," the Bench observed.
The Chief Justice,who said her article also appeared in a Malayalam  weekly, was particularly perturbed over the allegations that hearing on post-Godhra cases were fixed in such a way that it gets adjourned.
"It is shameful," the CJI said.
At this point, Salve succeeded in pacifying the Bench by saying "You (Bench) should treat it (article) with contempt and ignore it".
It is outrageous the extend these "self Styled" Secularists would go to make themselves heard! One fails to understand why they were so silent at the Mayhem unleashed by CPM in Nandigram! or is it that "atrocities in Bengal" donot fall within the preview of their business plan?